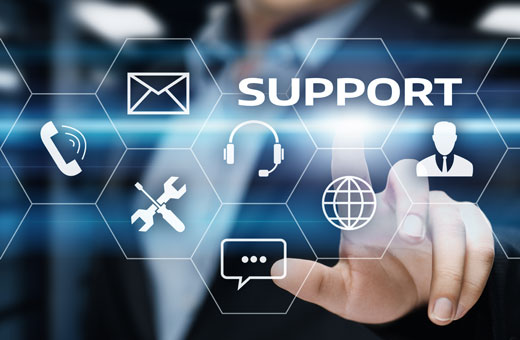 Information Technology (IT) is the set of processes that involve the use of the internet, websites, and computers. We live in an era where technology is too advanced that almost everything is run through computers. Therefore, all IT-related tools and functions must be maintained and supported.
IT Support services provide support to IT-related issues including cloud computing, database management, and network setup. IT support services ensures IT-related functions are working flawlessly regularly.
Types of IT Support Services
Managed IT support service
A lot of IT support service providers working with small businesses are referred to as managed service providers. This type of service comes with a variety of features but enables businesses to service their networks on an ongoing basis at a certain rate.
It might seem expensive but it is less costly in the long run as it can help you avoid certain problems that can be too expensive to solve from happening in the first place.
Cloud computing
Cloud computing involves any type of IT service delivered over a dedicated cloud network or the internet such as a SaaS offering or cloud platform.
Voice over Internet Protocol (VoIP) service
VoIP is a platform that provides an online service that allows people to communicate with others through voice calls. This service can be used when needed or on an ongoing basis.
Network security
Cybersecurity is a necessity for all businesses. Therefore, responding and evaluating potential cyber threats is a crucial service for IT businesses. Network security is offered as a standalone or managed IT offerings.
Network Setup
It is a preliminary setup service for companies looking to install a network provider and get it running. You can get this type of service as a standalone but it is highly recommended that you purchase a managed IT package.
On-Demand IT
This involves providing IT support services that are on-demand. Instead of businesses paying a regular fee, they only pay for each service when it is needed.
Database management
A database is used by businesses to monitor and access data during the lifecycle. The database includes sales, finances, customer, and employee data. Conversely, data management involves organizing that data to make sure there is security, compliance, and performance of data-driven apps.
Things to consider when purchasing an IT Support Service
Response time and Service Level Agreement (SLAs)
Time taken for an IT support service to respond to issues is crucial. Some clients prefer immediate feedback while others may be happy to wait for a few hours. On the other hand. SLA provides a guaranteed level of service. It also states that issues should be responded to a specific time period.
What an IT support service does not cover
A support service should entail in detail what it covers and what it doesn't. It is common for personal equipment like computers used in homes by freelancers not to be covered by the standard package.
Will the service support your applications?
IT support services usually take different approaches when it comes to application integration. Most support mainstream apps such as Microsoft Office or Dynamics CRM but less common apps may be unsupported.
https://www.thetechguru.co.uk/wp-content/uploads/2018/06/support-1.jpg
340
520
Ronnie
https://www.thetechguru.co.uk/wp-content/uploads/2018/06/Logo-1.png
Ronnie
2020-10-06 11:59:20
2020-10-08 12:39:08
IT Support Services